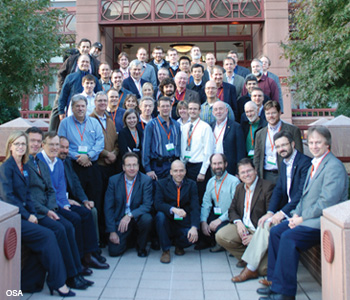 Kevin P. Thompson, Pablo Benítez, and Jannick P. Rolland reported on the first OSA incubator meeting in the paper, 'Freeform Optical Surfaces: A Revolution in Imaging Optical Design,' in Optics and Photonics News, Vol. 23, Issue 9, pp. 32-37 (2012).
This freeform incubator meeting, held in October 2011 in Washington, D.C., set the foundation for the formation of CeFO.                     
                                                                                                                                                                                                      Abstract: Just as business incubator programs are designed to support the development of fledgling companies, OSA's new incubator meeting series is structured to encourage the growth of exciting new areas within optics. The first one was devoted to the topic of freeform optics-a field that is actively evolving due to recent technological advances.
2012