For more information about membership, contact:
---
CeFO Members
have access to important new results and technologies.
take center-funded research results back and strategically implement to reduce cost and time to market for next generation products.
have continuous advanced training on freeform optics through two annual 2-day workshop and multiple monthly webinars.
hear about research related to emerging or competitive technologies, resulting in efficient monitoring and exploration of promising new technologies.
enjoy high leveraging factors for their research dollars – between 2 x – 13 x.
share ownership of Center IP and have licensing opportunities.
work together to define the Center research portfolio.
work with fellow members that are suppliers, competitors, and/or customers to define common problems.
contribute and have access to the Center-maintained Freeform Optics Technology Roadmap
have early access to students as interns and potential employees.
These are some of the direct benefits of CeFO membership. The return on investment (ROI) is many times greater than the membership fee. The NSF I/UCRC mission, vision, and structure provide the framework for these benefits, and this framework is used to build CeFO's foundation – a pre-competitive research portfolio that is cooperatively defined by the members. More generally, the ROIs are diverse and can be grouped into (1) technology growth benefits and (2) human resource benefits.
I/UCRC Mission and Vision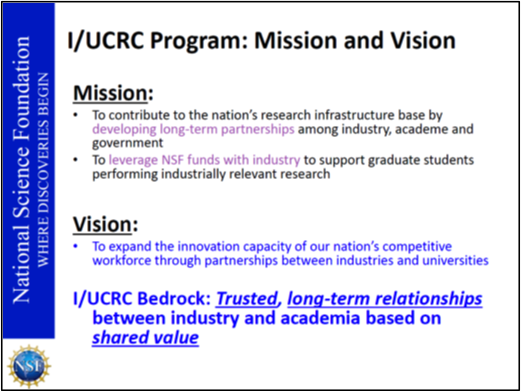 Appreciating member benefits begins with an understanding of the philosophy of the NSF Industry/University Cooperative Research Center.
Mission:
To contribute to the nation's research infrastructure base by developing long-term partnerships among industry, academe and government.
To leverage NSF funds with industry to support graduate students performing industrially relevant research.
Vision:
To expand the innovation capacity of our nation's competitive workforce through partnerships between industries and universities.
I/UCRC Bedrock: Trusted, long-term relationships between industry and academia based on shared value.
I/UCRC Structure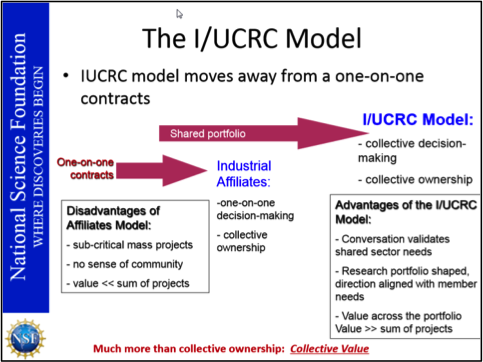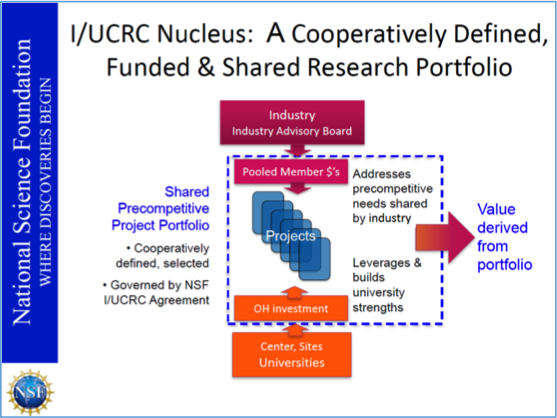 The I/UCRC accomplishes its goal by moving away from exclusively one-on-one industry-funded research projects. With individual and isolated projects, funding is limited, projects are sub-critical mass, and the resulting value is (usually) less than the sum of the individual projects.
The I/UCRC model is based on a cooperatively defined, funded, and shared research portfolio. Industry leads and strongly influences CeFO's research process from definition of the problem and project scope through mentoring and monitoring the progress. Through CeFO-driven conversation, shared sector needs are defined, and a shaped and growing freeform optics research portfolio emerges that is directly aligned with member needs. In addition, CeFO maintains an up-to-date, collectively-authored roadmap to track the commercial readiness of the key technologies. The research portfolio grows in the context of the roadmap.­­­­­­­­­­­­­­­­­­­­­­­­­­
Pre-competitive Research
By members of CeFO working together, a research scope emerges that is pre-competitive. This means the research lies at the interface between fundamental research (usually carried out in universities or research institutes) and company-specific product development. It is the work needed to advance technology that is the middle ground between focused cutting-edge research and proprietary research. The work is non-competitive, cooperative and often developmental, leading to full-scale competitive development in the future.
Pre-competitive research DOES NOT lead to things like
incremental improvements in cost, features or performance of a particular product
a differential advantage for one competitor over another
results allowing one or more competitors to catch up to a place where someone else already is
improvements in existing, successful products or their immediate successors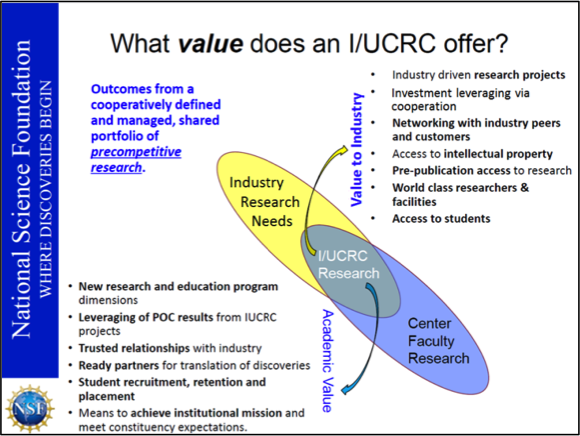 Pre-competitive research DOES lead to things like
solutions to common problems
solutions to obstacles that prevent a technology from being used in commercial applications
an understanding of the characteristics of new technologies or materials
new tools, information, and data that enables others to develop future products and services
equal benefit to all competitors
answers to high-cost or high-risk-of-failure questions that individual companies cannot afford to answer on their own
knowledge about something no one knows how to do
industry standards and test procedures where no precedents exist
results that the direct sponsors (e.g. I/UCRC affiliate members) are usually willing to share publically
The cost of membership comes with a return on investment that can be many times greater. Benefits are diverse and can be grouped as (1) technology growth benefits and (2) human resource benefits.
CeFO Technology Growth Benefits
Strategic fundamental research that is non-duplicative and supports the firm's technology roadmap.
Near-term research that provides 'cost avoidance' and research leveraging.
Research related to emerging or competitive technologies, resulting in efficient monitoring and exploration of promising new technologies.
Provides a window into important new results & technologies.
Diversity of viewpoints.Company hires in R&D tend to have a narrow range of expertise. This is efficient for moving a specific technology forward, but can limit long-term 'outside of the box' vision. Through CeFO, members have access to experts from mathematics to metrology, from metrology to machining, and are exposed to a wide range of viewpoints.
Provides stimulating science that will engage key employees while still meeting corporate short term goals.
Access to technical webinars on various topics from design to fabrication, testing and assembly.
Nimble R&D. In "Great by Choice", Jim Collins recommends a company "fire bullets then cannonballs", meaning the company should test various concepts fast and cheaply (fire bullets) without an initial commitment of a large sum of money. The company should commit significant internal resources (fire cannonballs) only when initial ideas are "fleshed out". Cooperatively leveraged pre-competitive research is a cost-effective way of 'firing bullets' – CeFO-funded projects are highly leveraged. Membership provides exposure to a large spectrum of directed research, allowing a member to quickly determine relevance.
Reduced cost to market.
Accelerate time to market.
Leads to solutions with new features or capabilities.
Access to interdisciplinary faculty teams spanning precision optics design, fabrication, metrology and assembly to help solve challenging cutting-edge problems.
Access to a broad spectrum of precision optics design, fabrication and testing infrastructure, including new tools developed in the center.
Opportunity to continually monitor and use CeFO results.
Cost effective. CeFO research is highly leveraged (leveraging factor).Traditionally, universities charge a ~50% overhead rate on projects. Affiliate funds in an NSF I/UCRC, however, enjoy an overhead rate of only 10% – this is a NSF mandated condition of the center. When comparing the cost to fund a specific project at the university either directly or through the center, the reduced overhead represents at least a 2X leveraging factor when the work is done through the center. When all on-going research through the center is considered (take a conservative 6 on-going projects as an example), a company's membership means access to research results from all on-going projects, with a resulting leveraging factor of ~13x compared to traditional university/ industry funding.
Access to Center IP. All members of the Center collectively own the IP generated through the Center.
Advanced copies of research technology transfer licensing.
Access to future customers.
Semiannual Advisory Board meetings to influence and guide the research portfolio
Teaming opportunities on proposals in response to government funding initiatives.
Name recognition (additional PR) as an I/UCRC center member (optional)
Members have opportunities for constructive collaboration and directed efforts with a team of customers, partners, suppliers, and competitors on basic and applied research of mutual benefit.
Members have opportunities for collaboration, consulting, and independent peer review with academic, customer, and industry practitioners.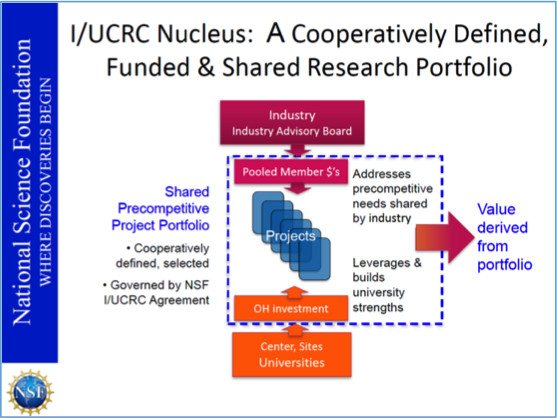 CeFO Human Resource Benefits
Early access to students as interns and potential employees. Hiring is important for a company's growth, but can be risky. CeFO members get to know the students well through internships or project collaboration, minimizing the hiring risk.
Reduced training cost of new employees. Graduates who have worked on CeFO projects will have relevant work skills on day 1. Academic curricula of member institutions target key enabling technologies, providing potential future employees with a trained workforce with focused skill sets and minimal learning curves.
Training and education of current employees. Members have access to technical Webinars on topics ranging from design to fabrication, testing and assembly
Future hires through the center are multidisciplinary graduates which will enhance opportunities for innovative growth.
Center membership provides stimulating science to engage key employees while still meeting corporate short term goals.

Leveraging Factor Estimation
If a member is interested exclusively in one project, the leveraging factor is at least 2x. The leveraging factor is computed by estimating the cost to run a single project outside of CeFO, which includes faculty and student stipends, supplies, student tuition, overhead and Center directors' oversight.
By considering all the activities of the center, the leveraging factor is at least 13x and will increase as the membership base expands. The leveraging factor of 13x is computed by estimating the cost to run the entire center, which includes the cost associated with the center-funded research projects (faculty and student stipends, student tuition, supplies, university overhead) and with center operations (directors' time and Center staff).
The Center funding has three main sources: the National Science Foundation (NSF), Industry (center members), and Universities (University of Rochester and University of North Carolina at Charlotte). In the first year of operation (calendar year 2014), each membership contribution is leveraged by a factor of at least 13 as shown below.