Meet Ulrike Fuchs: 2018 Thompson Winner
"Being the inaugural recipient of the Thompson Award is an honor. I have great respect for the work and contributions made by Kevin and I am very humbled for the recognition of my early-career accomplishments."
— Ulrike Fuchs, asphericon GmbH
Ulrike Fuchs started her academic career in 2003 working on numerical simulations for ultrashort pulse propagation in complex optical systems. Joining asphericon in 2010 as an optical designer shifted her research focus to interlinking manufacturing of aspherics and metrology with questions in optical design.
She is continuously working on concepts that allow a prediction of system performance during optical design and tolerancing processes. Recently, great emphasis is put on transferring those ideas to freeform optics. Her current position oversees all R&D activities as well as strategic product development.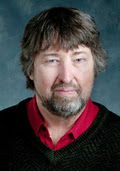 Kevin P. Thompson Optical Design Innovator Award (OSA Website)
The award honors Kevin P. Thompson, who, among many other accomplishments, was known for leading breakthroughs in the understanding of the aberration fields of a new class of truly nonsymmetric optical systems using freeform optical surfaces.
The award recognizes contributions to optical engineering, lens design, or metrology at an early career stage. Candidates must be within ten (10) years of the completion of their highest degree earned in the year the award is presented.