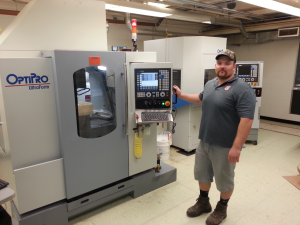 OptiPro ultraform finishing (UFF) system (CNC-subaperture finishing) at the University of Rochester.
Computer-Numerically-Controlled sub-aperture polishing system. Five controllable axes: X, Y, Z, B & C with up to four axes of simultaneous movement. Fagor 8070 CNC machine control with a high-resolution LCD touch screen monitor.
Capabilities include finishing of plano, spheres, and aspheres as well as freeform optics. Materials that can be finished include optical glasses, optical ceramics, and stainless steel injection mold inserts. Platform is instrumented with multiple axes load cells for real-time force measurement.